Since its launch in August 2020, www.soldat-und-technik.de has established itself as one of the leading specialist information portals for defence
technology and defence policy topics in the German-speaking world.
Soldat & Technik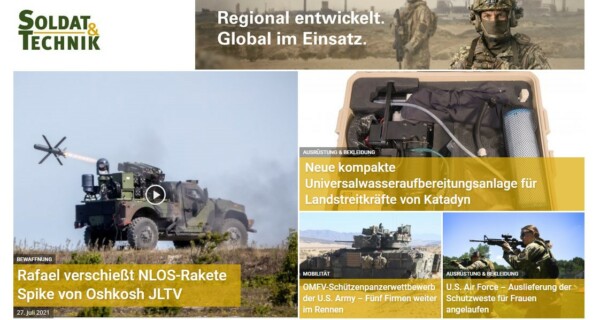 is a German-language online information platform with an international focus on topics related to dismounted soldier operations.
The service is dedicated to infantrymen or dismounted single combat riflemen and their weaponry, equipment, training and employment.
Soldat & Technik provides expert information and news on:
Infantry forces of all services including amphibious forces and armoured infantry
Special Operation Forces
Dismounted reconnaissance, including observation and designation resources
Joint Fires
Weaponry, including small arms, long guns, portable mortar and anti-tank weapons, ammunition, training
Clothing and personal equipment: current and future
Optics/optronics and signature management (visual / RF / EMS)
Command, control and communication equipment
Training, including medical and survival
The online information platform www.soldat-und-technik.de is accompanied by the annual print publication "Wehrtechnische Report "Soldat & Technik". In this publication Authors from the armed forces, government agencies, industry and the specialist press focus on the topics of the soldier's individual combat capabilities and their multipliers.