Current issue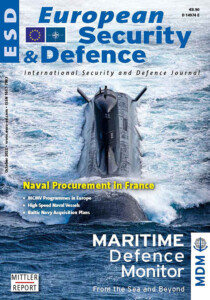 Contents of this issue:
French Naval Procurement Programmes: Status Report (Bruno Huriet)
Regionally Rooted – Globally Committed: The German Navy's Response to Current Challenges. Interview with Vice Admiral Jan C Kaack, "Inspekteur der Marine" (Chief of the German Naval Staff)
India's First Indigenous Aircraft Carrier (Suman Sharma)
Baltic Naval Procurement: Status Report (Conrad Waters)
Strategic Competition in the Arctic (Scott Savitz)
Mine Countermeasure Vessel Programmes and Requirements in Europe (Guy Toremans)
EU Looks to MIRICLE for MCM Future (Tim Guest)
European and US Heavyweight Torpedoes Continue to Evolve (Luca Peruzzi)
The Quest for Naval Firepower (Doug Richardson)
Directed Energy Weapons at Sea (Suman Sharma)
Equipment for Combat Swimmers (André Forkert)
Sea Change for the LCS? Littoral Combat Ship Faces New Uncertainty (Sidney E. Dean)
Naval Unmanned Aerial Systems. High-End Systems Join NATO Nations' Fleets (Sidney E. Dean)
High Speed Naval Vessels (Sidney E. Dean)
Unmanned Surface Vessels: Enhancing the Battle Force (Sidney E. Dean)
Conventional Submarine Builders (Bob Nugent)
Logistic Support Ship Programmes: Status Report (Conrad Waters)
Offensive Ambition: Recapitalising the US Navy's Mine Inventory (Richard Scott)
Winning the War at Sea. Reshaping the USMC for Future Naval Campaigns (Peter Layton)
Maritime Defence Monitor
Authoritative global journal for the marine-naval community, written and published by uniquely qualified professionals from this sector
Maritime Defence Monitor (MDM) was successfully launched in 2020 and is available in print digital formats. MDM is dedicated to providing accurate, unbiased information to serve the professional naval defence and maritime security community worldwide, so decision-makers and responsible actors can make informed decisions for the best possible outcomes.
Through strategic partnerships and targeted print and digital distribution, MDM authenticates its credibility, legitimacy and track record in the specialised international community of naval and maritime professionals. MDM is the only naval or maritime publication to establish itself in this inimitable way.
Editorial Leadership Team:
Capt. (ret) Hans Uwe Mergener and Conrad Waters
Managing Editor:
Jürgen Hensel