Current issue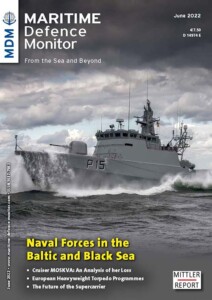 Contents of this issue:
The Sinking of the MOSKVA – an Attempt at an Analysis (Hans Uwe Mergener)
Indian Ocean Rivalries: China and India in the Indian Ocean (Peter Layton)
Status Report: The Royal Netherlands Navy. A Larger Budget, but the Dutch Navy is facing Difficult Times (Jamie Karremann)
The Maritime Capabilities and Modernisation Plans of the Baltic States (Robert Czulda)
Knockout Punch: European Heavyweight Torpedoes (Richard Scott)
Emerging Trends in Naval Mining Capabilities (Scott Savitz)
W(h)ither the Supercarrier? The Debate over the 21st Century Role of Aircraft Carriers (Sidney E. Dean)
Emergent Changes in Naval Training and Simulation: Drivers and Implications (William Smallman)
Status Report: Naval Programmes in the Black Sea (Conrad Waters)
A Turning of the Times. Interview with Torben Schutz, Associate Fellow Security and Defence Program at the German Council on Foreign Relations
The Baltic Sea under Different Auspices. Interview with to Rear Admiral (Lower Half) Henning Faltin as the Commander COE CSW who is simultaneously Commander EF 1
more on www.msd-mag.com.
Maritime Defence Monitor
Authoritative global journal for the marine-naval community, written and published by uniquely qualified professionals from this sector
Maritime Defence Monitor (MDM) was successfully launched in 2020 and is available in print digital formats. MDM is dedicated to providing accurate, unbiased information to serve the professional naval defence and maritime security community worldwide, so decision-makers and responsible actors can make informed decisions for the best possible outcomes.
Through strategic partnerships and targeted print and digital distribution, MDM authenticates its credibility, legitimacy and track record in the specialised international community of naval and maritime professionals. MDM is the only naval or maritime publication to establish itself in this inimitable way.
Editorial Leadership Team:
Capt. (ret) Hans Uwe Mergener and Conrad Waters
Managing Editor:
Jürgen Hensel