Current issue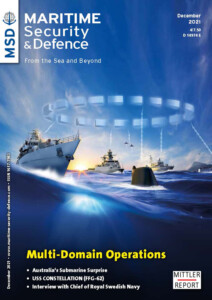 Contents of this issue:
Australia's Nuclear Submarine Surprise (Dr. Peter Layton)
Sweden's Navy: Cooperation in the Geo-Strategic Continuum from the Arctic to the Baltic to the Black Sea. Interview with Rear Admiral Ewa Skoog Haslum, Sweden's Chief of Navy
South America – A Unique Naval Market: An Overview (Guy Toremans)
Evolving the FREMM. The US Navy's CONSTELLATION (FFG-62) Class (Sidney E. Dean)
Developments in the Global Sonar Market (Bob Nugent)
Major Surface Combatant Procurement: Status Report (Conrad Waters)
Warship Habitability Today (Bruno Huriet)
Cruise Lines after the Pandemic: Rising from the Shutdown (Franz Neumeier)
Opinion: Three Global Flashpoints of Area Denial (Tim Guest)
NATO's Maritime Centres of Excellence (Edward Lundquist)
600 Blue Dots. Why NATO should adopt Multi-Domain Operations (Andreas Uhl)
Lessons Learned – Collision Avoidance (Guy Toremans)
more on www.msd-mag.com.
Maritime Defence Monitor
Authoritative global journal for the marine-naval community, written and published by uniquely qualified professionals from this sector
Maritime Defence Monitor (MDM) was successfully launched in 2020 and is available in print digital formats. MDM is dedicated to providing accurate, unbiased information to serve the professional naval defence and maritime security community worldwide, so decision-makers and responsible actors can make informed decisions for the best possible outcomes.
Through strategic partnerships and targeted print and digital distribution, MDM authenticates its credibility, legitimacy and track record in the specialised international community of naval and maritime professionals. MDM is the only naval or maritime publication to establish itself in this inimitable way.
Editorial Leadership Team:
Capt. (ret) Hans Uwe Mergener and Conrad Waters
Managing Editor:
Jürgen Hensel
Inspection copy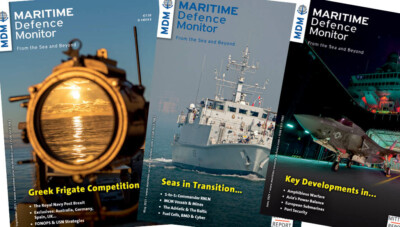 Order your FREE inspection copy of Maritime Defence Monitor here!