MarineForum
Observing maritime developments
Publisher: German Maritime Institute / Deutsches Maritimes Institut e.V.

MarineForum is published by Mittler Report on behalf of the German Maritime Institute (DMI) and the German Naval Officers Association (Marine Offizier Vereinigung – MOV) and is Germany's leading naval and maritime specialist periodical covering:
Maritime security policy
Naval and maritime strategy
Naval technology
Naval policy
Naval history
Editor-in-Chief: Holger Schlüter
Marketing/Advertising: Andreas Himmelsbach, Susanne Sinß, Stephen Barnard and Stephen Elliot
Single copy: €7.43 (without VAT and shipping)
Annual subscription: €85 (shipping included)
MarineForum website: https://marineforum.online/
Address of the Editorial Staff:
Jadeallee 102
26382 Wilhelmshaven
Tel.: +49 4421-50047-0
E-Mail: marineforum@mov-moh.de
Subscribe now!
MarineForum is published monthly (10 issues/year; double issues in Jan/Feb and Jul/Aug).
Annual Subscription:
€70.00 (incl. postage within Germany)
€85.00 (incl. postage outside of Germany)
You can subscribe to the print edition here. Our digital offerings are available in our Online Shop .
MarineForum in e-paper format or PDF version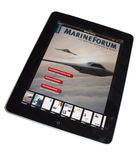 MarineForum is also available in e-paper format or PDF version for your computer or mobile devices in the iKiosk.
Use on mobile devices:
1. Download and install the iKiosk app on your device(free, available in Apple's App Store or in the Google Play Store)!
2. Select MarineForum and place your order.
Single copy: €5.99
Subscription (10 issues): €54.99