Current Issue: September 2023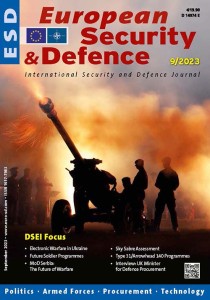 Contents of this issue:
Delivery rather than Perfection: ESD Interviews the UK Minister for Defence Procurement James Cartlidge MP
UK Defence Command Paper 2023: Making a Virtue of Necessity (Conrad Waters)
How 'Special' is this Relationship? The USA and the UK (Dan Kaszeta)
Coordinating Naval Programmes in Europe (Guilia Tilenni)
The Time for Comprehensive Changes has Come (Dr Nenad Miloradović)
Major Procurements Mask Immediate Equipment Concerns for Canada (David Saw)
The British Army – Still Searching for a Sense of Direction? (David Saw)
Silent Struggle: Accounts from the Frontlines of Ukraine's Electronic War (Mark Cazalet)
Clouds on the Horizon (Thomas Withington)
Through the Looking Glass (Tamir Eshel)
Future Soldier Systems: Current Programmes (Sidney E. Dean)
Preparing Tactical Command Posts for the Next War (John Antal)
The Future of Persistent Ground Surveillance (Tamir Eshel)
Heavens Above! (Thomas Withington)
Decontamination and Returning to Service (Dan Kaszeta)
Apache CSP – the UK's Newest Attack Helicopters (Tim Guest)
Next Generation Rotorcraft Capability: NATO's Joint Helicopter Development Programme (Sidney E. Dean)
Global Combat Air Programme: an Update and future perspectives (Guilia Tilenni)
Protector RG Mk1: Royal Air Force Gains New MALE UAV (Sidney E. Dean)
Upwardly Mobile: VTOL and Tiltrotor Technology Developments (Sidney E. Dean)
Sniper Rifles – Scoping the Field (David Saw)
Towards a New UK Weapon-Locating Capability (Tim Guest)
Sky Sabre: A Landmark in UK GBAD Capability (Doug Richardson)
Solving the British Artillery Capability Gap – the Mobile Fires Platform (David Saw)
Arquus Proposes Hybrid Tank Engine Upgrade Solutions (David Saw)
New Guns, Missiles and Laser Systems for Naval Inner Layer Defence (Luca Peruzzi)
Offshore Patrol Vessels: The Swiss Army Knife of Modern Navies (Jean Auran)
Staying Ahead of the Game: Type 26 Targets Evolving ASW Challenge (Dr Lee Willett)
Type 31/Arrowhead 140 Frigate Programmes: Status Report (Conrad Waters)
On Patrol: Poseidon Brings Enhanced MPA Capability (Dr Lee Willett)
Mapping Activity Patterns: Using Technology and Information to Secure Seabed Infrastructure (Dr Lee Willett)
By Stealth to the Shore (Peter Felstead)
Nuclear Options (Tim Guest)
European Security & Defence
Published in English for global decision makers in politics and armed forces

European Security & Defence (ESD) addresses focal aspects of European security and defence policy, force development and armament for an international audience in more than 100 countries. Contributors include high-level authors from politics, armed forces, public administration and science covering:
Security policy
International armed forces
Armament and procurement
Weapon systems and equipment
International defence technology
Research and technology
ESD's annual programme includes a special issue on "Defence Procurement in Germany".
Editor-in-Chief: Mark Cazalet
Please click here for your points of contact on all questions regarding advertising.
Supported by the ES&T editorial team and an international network of correspondents and authors.
Single copy: € 9.90 (+ shipping)
European Security & Defence website: www.euro-sd.com