Current issue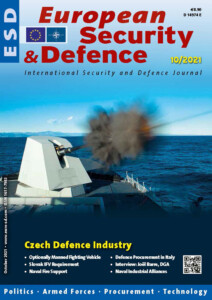 Contents of this issue:
The Current Terrorist Threat in the United Kingdom (Andreea Stoian Karadeli)
Naval Industrial Alliances in Europe (Giulia Tilenni)
Transatlantic Industrial Cooperation: West to East (Andreea Stoian Karadeli)
Serbian Defence Industry Aims for Exports (Christopher F. Foss)
The Czech Defence Industry Today (Martin Smisek)
Optionally Manned Fighting Vehicle. A Status Report (Sidney E. Dean)
"To be better equipped and better armed" Interview with Joël Barre, Head of the DGA
Global Navigation Satellite Systems (Thomas Withington)
Military Mobile Decontamination Systems. Examining the Main European Players (Dan Kaszeta)
India Joins Elite Club of Aircraft Carrier Manufacturers (Suman Sharma)
Italy's Defence Multi-Year Planning Document 2021-2023 (Luca Peruzzi)
Naval Fire Support Evolves (Luca Peruzzi)
Personal Power Supplies (Tim Guest)
Softkill Solutions for the Modern Navy (Doug Richardson)
Slovak IFV Procurement Programmes (Martin Smisek)
The Speed to Operate in the Digital Age. An Update on Joint All Domain Command and Control (John Antal)
Mobile / Manoeuvre SHOrt-Range Air Defence (Jean François Auran)
Vehicle Equipment of the Luxembourg Army (Gerhard Heiming)
USAF's Next Generation Air Dominance Programme. Status Report and Impact (Sidney E. Dean)
The Baltic Navies: Situation Report (Conrad Waters)
European Security & Defence
Published in English for global decision makers in politics and armed forces

European Security & Defence (ESD) addresses focal aspects of European security and defence policy, force development and armament for an international audience in more than 100 countries. Contributors include high-level authors from politics, armed forces, public administration and science covering:
Security policy
International armed forces
Armament and procurement
Weapon systems and equipment
International defence technology
Research and technology
ESD's annual programme includes a special issue on "Defence Procurement in Germany".
Editor-in-Chief: Jürgen Hensel
Publisher and Managing Editor: Stephen Barnard
Marketing/Advertising: Stephen Barnard, Stephen Elliott, Waldemar Geiger, Jürgen Hensel and Dr. Andreas Himmelsbach
Supported by the ES&T editorial team and an international network of correspondents and authors.
Single copy: €8.90 (+ shipping)
European Security & Defence website: www.euro-sd.com