Current issue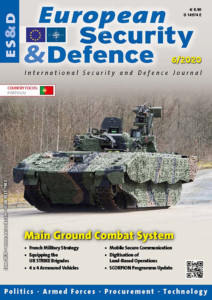 Contents of this issue:
COUNTRY FOCUS: PORTUGAL
Investment in the defence sector can make a major contribution to economic revival (João Gomes Cravinho)
We Became Complacent. – Interview with João Gomes Cravinho, Minister of National Defense of Portug
Strengthening Security and Defence Culture – Interview with Prof. Dr. António Figueiredo Lopes
Transformation of Portuguese Defence Procurement Processes (Augusto de Melo Correia)
Overview of the Portuguese Defence Industry (Agostinho Costa)
Information is Our Core Material – Interview with Rear Admiral António Gameiro Marques
Providing Security in the Central African Republic (Carlos Branco)
Fostering Ambitious Large-Scale Initiatives – Interview with José Neves, AED Cluster President
One of Portugal's Largest Players in Defence – Interview with Fernando Braz de Oliveira, Head of Naval Systems at EDISOF
Mission Critical Software Systems – Interview with Nuno Bustorff Silva, Business Development Manager, Defence Market at Critical Softwa
Integrated Systems for Advanced Solutions – Interview with Alberto de Pedro, CEO of GMV
Further Topics
Covid-19 and Terrorist Groups (Andreea Stoian Karadeli)
Public-Private Partnerships – A Defence Industrial Policy Choice in The Post-Covid Era? (Manuela Tudosia)
Does a French Exception Still Exist? (Giulia Tilenni)
Arquus – Taking Charge of Complex International Programmes – Interview with Emmanuel Levacher, President of Arquus
Redefining Mobile Artillery:How AM General is Changing the Game – Interview with Major General (Ret'd) Mark McDonald
The Donbas Conflict and the Future of Armoured Warfare (Reuben F. Johnson)
Asymmetric Warfare (Suman Sharma)
Agile Development With Soldier Feedback – Interview with General John M. Murray, first Commanding General of US Army Futures Command
Research and Technology for the Future Main Ground Combat System (Thomas Czirwitzky and Pierre Wey)
Equipping the UK STRIKE Brigades (Henry Richardson)
4×4 Armoured Vehicles (Sidney E. Dean)
Digitisation of Land-Based Operations (Tamir Eshel)
UK Moves Ahead on Active Protection Systems (Christopher F. Foss)
Armour Renaissance in the French Army SCORPION Transformation Programme (David Saw)
Digital Command of Urban Combat (Doug Richardson)
The System that Never Was? (Thomas Withington)
A World of Hertz (Thomas Withington)
Air and Ground Systems for Short-Range Reconnaissance (Doug Richardson)
Towards Trustworthy Military Autonomous Systems (Tamir Eshel)
CBRN: Protecting the Force (Dan Kaszeta)
Support for the BOXER fleet (Robert Elvish)
Directed Energy Developments (Joris Verbeurgt)
The Continuing Evolution of the Combat Helmet (David Saw)
Protected Vision (David Saw)
More on www.euro-sd.com
European Security & Defence
Published in English for global decision makers in politics and armed forces

European Security & Defence (ESD) addresses focal aspects of European security and defence policy, force development and armament for an international audience in more than 100 countries. Contributors include high-level authors from politics, armed forces, public administration and science covering:
Security policy
International armed forces
Armament and procurement
Weapon systems and equipment
International defence technology
Research and technology
ESD's annual programme includes a special issue on "Defence Procurement in Germany".
Editor-in-Chief: Jürgen Hensel
Publisher and Managing Editor: Stephen Barnard
Marketing/Advertising: Stephen Barnard, Stephen Elliott, Waldemar Geiger, Jürgen Hensel and Dr. Andreas Himmelsbach
Supported by the ES&T editorial team and an international network of correspondents and authors.
Single copy: €8.90 (+ shipping)
European Security & Defence website: www.euro-sd.com
ESD in e-paper format or PDF version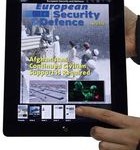 European Security & Defence is also available in e-paper format or PDF version for your computer or mobile devices in the iKiosk.
Use on mobile devices:
1. Download and install the iKiosk app on your device(free, available in Apple's App Store or in the Google Play Store)!
2. Select European Security & Defence and place your order.
Single copy: €6.99

Subscription (12 issues): €64.99