Current Issue: November/December 2022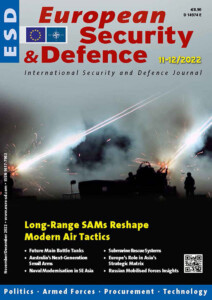 Contents of this issue:
Australia's Lethality System Project for Next-Generation Small Arms (David Saw)
Long-range SAMs Reshape Modern Air Tactics (Doug Richardson)
Future Main Battle Tanks (Christopher F Foss and Mark Cazalet)
Nurol Makina Developing New NMS Variants (Sam Cranny-Evans)
The Digitisation of Bundeswehr Land Operations (Enrico Dani)
"A Shovel is your Best Friend," Advice to Mobilised Russians Provides Battlefield Insights (Sam Cranny-Evans)
First-Aid and Medical Simulation: New Frontiers (Dan Kaszeta)
Danish Defence Procurement (Bo Leimand)
India's Big Push from Arms Importer to Exporter (Suman Sharma)
Naval Modernisation in Southeast Asia (Robert Czulda)
Rescue Beneath the Surface (Tim Guest)
Historical Increase in Austrian Defence Spending, but Debate on Neutrality Remains Frozen (Georg Mader)
Latvia's "Namejs 2022" Military Exercise (Gerhard Heiming)
The Indonesian Defence Environment (David Saw)
Indonesia – Partner for Europe? (David Saw)
Europe's Role in the Asian Strategic Matrix (David Saw)
The Turkey-Azerbaijan-Israel Axis: Pragmatic as Ever ( Gayane Novikova)
Successfully Navigating the Canadian Offset Maze (David Saw)
The Sun Sets on Japan's Defence Industry (Shinichi Kiyotani)
European Security & Defence
Published in English for global decision makers in politics and armed forces

European Security & Defence (ESD) addresses focal aspects of European security and defence policy, force development and armament for an international audience in more than 100 countries. Contributors include high-level authors from politics, armed forces, public administration and science covering:
Security policy
International armed forces
Armament and procurement
Weapon systems and equipment
International defence technology
Research and technology
ESD's annual programme includes a special issue on "Defence Procurement in Germany".
Editor-in-Chief: Mark Cazalet
Please click here for your points of contact on all questions regarding advertising.
Supported by the ES&T editorial team and an international network of correspondents and authors.
Single copy: €8.90 (+ shipping)
European Security & Defence website: www.euro-sd.com