Current issue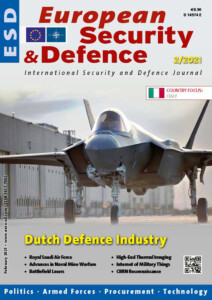 Contents of this issue:
Turkey's New Role in NATO (Korhan Özkilinc)
Cooperation for International Security (Luca Peruzzi)
Italy's Strategic Concept (General Enzo Vecciarelli)
"International cooperation in the military procurement sector has always been of crucial importance." Interview with Lieutenant General Nicolo Falsaperna
The Italian Defence Industrial Base (Carlo Festucci)
High-End Thermal Imaging Systems (Doug Richardson)
Connectors for Harsh Environments (Tim Guest)
The Internet of Military Things – Too Much Information? (Thomas Withington)
Scopes: Identification, Digitalisation and Range Superiority (Andre Forkert)
Hardware Upgrade: The Future of Rugged Devices (Gerrard Cowan)
Ground Support Equipment: Often Disregarded, yet of Vital Importance (Florian Lobitz)
Unmanned Systems in Support of Future Autonomy (Alex Horobets)
Ground-Based Battlefield Laser Applications and Technology (Sidney E. Dean)
Satellite Navigation – Is this just Phantasy? (Thomas Withington)
CBRN Reconnaissance: Obsolete or Omnipresent? (Dan Kaszeta)
The Impact of Secure Tactical Video Transmission (John Antal)
"Self-Reliance" and "Self-Respect": Aero India 2021 (Suman Sharma)
Op-Ed: EDGE Group (H.E. Faisal Al Bannai)
Outcome-Based Contracting (Peter Janatschek, Joe Spruill, Gustavo Scotti di Uccio)
The Dutch Defence Sector on the Way towards a European Defence Market (Ron Nulkes)
The Royal Saudi Air Force – Confronting Multi-Dimensional Threats (David Saw)
Advances in Naval Mine Countermeasures (Luca Peruzzi)
Indian Naval Aviation Considering Major Reforms in 2021 (Suman Sharma)
European Security & Defence
Published in English for global decision makers in politics and armed forces

European Security & Defence (ESD) addresses focal aspects of European security and defence policy, force development and armament for an international audience in more than 100 countries. Contributors include high-level authors from politics, armed forces, public administration and science covering:
Security policy
International armed forces
Armament and procurement
Weapon systems and equipment
International defence technology
Research and technology
ESD's annual programme includes a special issue on "Defence Procurement in Germany".
Editor-in-Chief: Jürgen Hensel
Publisher and Managing Editor: Stephen Barnard
Marketing/Advertising: Stephen Barnard, Stephen Elliott, Waldemar Geiger, Jürgen Hensel and Dr. Andreas Himmelsbach
Supported by the ES&T editorial team and an international network of correspondents and authors.
Single copy: €8.90 (+ shipping)
European Security & Defence website: www.euro-sd.com
ESD in e-paper format or PDF version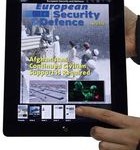 European Security & Defence is also available in e-paper format or PDF version for your computer or mobile devices in the iKiosk.
Use on mobile devices:
1. Download and install the iKiosk app on your device(free, available in Apple's App Store or in the Google Play Store)!
2. Select European Security & Defence and place your order.
Single copy: €2.99

Subscription (11 issues): €24.99