Current Issue: March 2023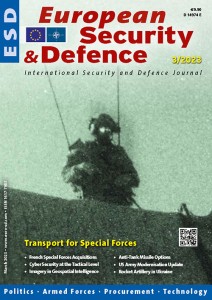 Contents of this issue:
Land Mobility for Special Operations Forces (André Forkert)
UKP-ŽV: A New Wheeled Armoured Vehicle for the Czech Army (Martin Smisek)
Indian Navy Takes Major Step Forward (Suman Sharma)
The World of Saint Javelin (Doug Richardson)
The 155 mm Artillery Marketplace Evolves (David Saw)
Advancing Battle Management Systems (Tamir Eshel)
Connecting the Force (Thomas Withington)
Ajax Has "Turned a Corner", Claims UK Defence Secretary (Peter Felstead)
Protecting Critical Infrastructure (Tim Guest)
Ukraine's Favourite Dish (Thomas Withington)
Understanding the View – Imagery in Geospatial Intelligence (Tim Guest)
US Army Modernisation: a Mid-Term Report (Sidney E. Dean)
Zelensky's Call for Fighter Jets Leaves UK Searching for Options (Peter Felstead)
Special Operation Forces Innovations Network Seminar (SOFINS). A Decade in the Service of the Special Forces (Jean Auran)
Interview with Martin Krona, President EMEA at Markforged
The EU as an International Security Institution (Bo Leimand)
Connection Protection (Thomas Withington)
French Special Forces Acquisitions Report – Staying in the Vanguard (Jean Auran)
Lessons Learned From Ukraine: Rocket Artillery On The Modern Battlefield (David Saw)
The Art of Logistics (Thomas L. Nielsen)
The Hazards of Aeromedical Evacuation (Ian Frain)
European Security & Defence
Published in English for global decision makers in politics and armed forces

European Security & Defence (ESD) addresses focal aspects of European security and defence policy, force development and armament for an international audience in more than 100 countries. Contributors include high-level authors from politics, armed forces, public administration and science covering:
Security policy
International armed forces
Armament and procurement
Weapon systems and equipment
International defence technology
Research and technology
ESD's annual programme includes a special issue on "Defence Procurement in Germany".
Editor-in-Chief: Mark Cazalet
Please click here for your points of contact on all questions regarding advertising.
Supported by the ES&T editorial team and an international network of correspondents and authors.
Single copy: € 9.90 (+ shipping)
European Security & Defence website: www.euro-sd.com