Current issue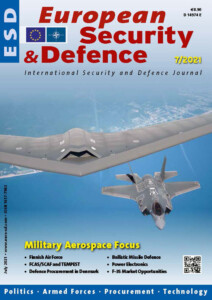 Contents of this issue:
Military Aerospace Expertise and Exports from Israel (Eugene Kogan)
Beyond the Pandemic Effect. Terrorism and Counterterrorism in 2021 (Dr Andreea Stoian Karadeli)
India to Stop Importing Tanks, Corvettes, Helicopters (Suman Sharma)
Finnish Air Force Modernisation Plans (Georg Mader)
"International cooperation is supported by the highest leadership of the Government." Interview with Major General Pasi Jokinen, Finnish Air Force
Agility Prime: US Air Force Pursues eVTOL Aircraft (Sidney E. Dean)
FCAS / SCAF and TEMPEST: Programme Status Reports (Giulia Tilenni)
Vertical Rotary Lift. Rotary Lift Development and Procurement Programmes in North America and Europe (Sidney E. Dean)
Air-Launched Weapons – Smaller, Smarter, Further (Tamir Eshel)
A400M Turns a Corner (Georg Mader)
"We have full confidence in the F-35 programme." Interview with Lieutenant General Kim Jesper Jörgensen,
Commander of the Danish Ministry of Defence Acquisition and Logistics Organisation (DALO) and Danish National Armaments Director
Killer Code: Cyber-Supported SEAD (Thomas Withington)
Magnum Force in the Anti-Radar Game (Doug Richardson)
Attritable Aircraft (Sidney E. Dean)
Finally, a MiG-21 Replacement. An Update on the Croatian Air Force (Alan Warnes)
Airborne Radars. Keeping up-to-date, in the face of increasing demands for more accurate systems (Georg Mader)
Taking Flight: Advances in Airborne Autonomy (Gerard Cowan)
A Different Option – Rediscovering Lightweight Combat Aircraft Solutions (David Saw)
JTAC: Roles and Equipment (Andre Forkert)
Defence Against the Threat of Short and Medium-Range Ballistic Missiles (Tim Guest)
Power Electronics for the Power-Full Battlefield (Tim Guest)
European Market Opportunities for the F-35 LIGHTNING II. Finland, Switzerland and Spain are the new objectives in Europe (Esteban Villarejo)
"We have the complete portfolio." Interview with Jackson Schneider, President & CEO, Embraer Defense & Security.
A New Type of Defence Company. Interview with Yuriy Husyev, General Director of Ukroboronprom
Update: The Integrated Battle Command System (Henry Richardson)
European Security & Defence
Published in English for global decision makers in politics and armed forces

European Security & Defence (ESD) addresses focal aspects of European security and defence policy, force development and armament for an international audience in more than 100 countries. Contributors include high-level authors from politics, armed forces, public administration and science covering:
Security policy
International armed forces
Armament and procurement
Weapon systems and equipment
International defence technology
Research and technology
ESD's annual programme includes a special issue on "Defence Procurement in Germany".
Editor-in-Chief: Jürgen Hensel
Publisher and Managing Editor: Stephen Barnard
Marketing/Advertising: Stephen Barnard, Stephen Elliott, Waldemar Geiger, Jürgen Hensel and Dr. Andreas Himmelsbach
Supported by the ES&T editorial team and an international network of correspondents and authors.
Single copy: €8.90 (+ shipping)
European Security & Defence website: www.euro-sd.com
ESD in e-paper format or PDF version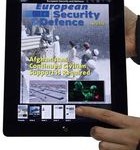 European Security & Defence is also available in e-paper format or PDF version for your computer or mobile devices in the iKiosk.
Use on mobile devices:
1. Download and install the iKiosk app on your device(free, available in Apple's App Store or in the Google Play Store)!
2. Select European Security & Defence and place your order.
Single copy: €2.99

Subscription (11 issues): €24.99