Current issue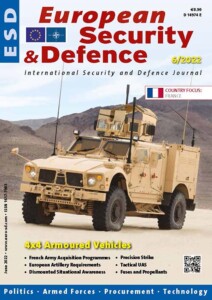 Contents of this issue:
Country Focus: France
French Defence Policy Overview (David Saw)
"To be better equipped and better armed" Interview with Joel Barre, Head of the DGA
A Global Player: The French Defence Industrial Base (David Saw)
Perspectives on the Future of the French Defence Industry. A Conversation with Emmanuel Levacher, President of Arquus
The International Reference for Land and Airland Defence and Security Exhibitions (Charles Beaudouin)
Further Contents:
Afghanistan and the Militant Crossroads ( Andreea Stoian Karadeli)
Europe and the United States – Strained Alliances and Different Visions (David Saw)
Israeli-Turkish Relations: Challenges and Opportunities (Eugene Kogan)
Denmark Provides HARPOON Anti-Ship Missiles to Ukraine (Hans Uwe Mergener)
A Self-Reliant India Venturing into UAV Technology (Suman Sharma)
China's Countermeasures and US Theatre Missile Defence (Debalina Ghoshal)
Strong and Versatile: 4×4 Armoured Vehicles (Sidney E. Dean)
UK 4×4 Armoured Vehicles (Christopher F Foss)
Europe Beefs up Artillery Capability (Christopher F Foss)
Defence of Vital Points in Today's Changing Operational Environment (Tim Guest)
French Army Acquisition Programmes (David Saw)
The Future of War is Unmanned Aircraft Systems and Loitering Munitions (John Antal)
SCORPION Update (Christina Mackenzie)
CV90 Wins in Slovakia (Martin Smisek)
Precision Strike– A Techniology in its Infancy ( C. Menon)
Situational Awareness for the Dismounted Warfighter (Tamir Eshel)
Franco-German Combat Aircraft Developments (Giulia Tilenni)
Preparing the Alliance for Future CBRN Defence. The Joint CBRN Defence Capability Development Group (Frank Sabath, Paul Weaver-Smith and Joseph Kopcha)
Markets and Developments in Vetronics (Tim Guest)
Course Correction Fuzes and Modular Charges (Tim Guest)
Shells, Bombs, Zeros and Ones (Thomas Withington)
How the French Army Prepares for the Battles of Today and Tomorrow (Jean Francois Auran)
"We are concerned about Russia's aggressive actions that violate the sovereignty of independent states" Interview with Lieutenant General Dr. Romulusz Ruszin-Szendi, Hungary's Chief of Defence
Swedish Army to Build-up Four Fully Equipped Brigades (Lars Hoffmann)
Combat Support Service of the French Land Forces (Jean Francois Auran)
European Security & Defence
Published in English for global decision makers in politics and armed forces

European Security & Defence (ESD) addresses focal aspects of European security and defence policy, force development and armament for an international audience in more than 100 countries. Contributors include high-level authors from politics, armed forces, public administration and science covering:
Security policy
International armed forces
Armament and procurement
Weapon systems and equipment
International defence technology
Research and technology
ESD's annual programme includes a special issue on "Defence Procurement in Germany".
Editor-in-Chief: Jürgen Hensel
Publisher and Managing Editor: Stephen Barnard
Marketing/Advertising: Stephen Barnard, Stephen Elliott, Waldemar Geiger, Jürgen Hensel and Dr. Andreas Himmelsbach
Supported by the ES&T editorial team and an international network of correspondents and authors.
Single copy: €8.90 (+ shipping)
European Security & Defence website: www.euro-sd.com