Current issue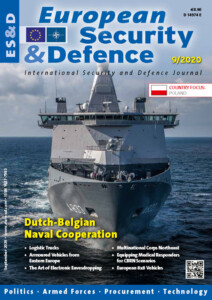 Contents of this issue:
The True Nature of Sino-Russian Relations (Eugene Kogan)
The COVID-19 Saga. Global Implications, Geopolitical Trends and the Balance of Power (Andreea Stoian Karadeli)
How China Used the Pandemic for ist Expansionist Pursuits (Suman Sharma)
Pivot to Asia. Europe's Declining Significance from a Geo-Strategic Perspective (Ludolf von Löwenstern)
"I would like to see the EU to take full responsibility for its maritime dimension". Interview with Vice Admiral Hervé Bléjean, Director General of the European Union Military Staff (DGEUMS) and Director of the Military Planning and Conduct Capability (Dir MPCC)
Armoured Vehicles from Eastern Europe (Alex Horobets)
EURONAVAL 2020 and the "New Normal". Interview with with Hugues d'Argentré, Director, SOGENA
36 Post-COVID-19 Europe: a New Security Environment with New Challenges. Interview with Bear Midkiff, Vice President Sales and Marketing, John Cockerill Defense
Limitations on Defence Imports to India (Suman Sharma)
Europe Builds up Fleets of 8×8 (Christopher F. Foss)
Features of Modern Military Logistic Trucks (Gerhard Heiming)
Belgian and Dutch Naval Replacement Programmes (Jaime Karremann)
The Art of Electronic Eavesdropping (Doug Richardson)
European Infantry Fighting Vehicle Armament (Christopher F. Foss)
Equipping Medical Responders for CBRN Scenarios (Dan Kaszeta)
Protecting NATO's Northern Approaches (Bo Leimand)
Light Infantry: a New Tool for the Danish Army (Michael Johnsson)
Enforcing the Arms Embargo: Operation IRINI. Interview with RADM Fabio Agostini, Commander, Operation EUNAVFOR MED IRINI
From Political Symbol to Regional Responsibility. The Multinational Corps Northeast in Szczecin (Poland) (Ulrich Pfützenreuter)
Major Polish Procurement Programmes (Michał Jarocki)
Another Decrease in Polish Defence Exports (Michał Jarocki)
Poland's Aviation Procurement Programmes (Michał Jarocki)
More on www.euro-sd.com
European Security & Defence
Published in English for global decision makers in politics and armed forces

European Security & Defence (ESD) addresses focal aspects of European security and defence policy, force development and armament for an international audience in more than 100 countries. Contributors include high-level authors from politics, armed forces, public administration and science covering:
Security policy
International armed forces
Armament and procurement
Weapon systems and equipment
International defence technology
Research and technology
ESD's annual programme includes a special issue on "Defence Procurement in Germany".
Editor-in-Chief: Jürgen Hensel
Publisher and Managing Editor: Stephen Barnard
Marketing/Advertising: Stephen Barnard, Stephen Elliott, Waldemar Geiger, Jürgen Hensel and Dr. Andreas Himmelsbach
Supported by the ES&T editorial team and an international network of correspondents and authors.
Single copy: €8.90 (+ shipping)
European Security & Defence website: www.euro-sd.com
ESD in e-paper format or PDF version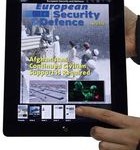 European Security & Defence is also available in e-paper format or PDF version for your computer or mobile devices in the iKiosk.
Use on mobile devices:
1. Download and install the iKiosk app on your device(free, available in Apple's App Store or in the Google Play Store)!
2. Select European Security & Defence and place your order.
Single copy: €6.99

Subscription (12 issues): €64.99