Current issue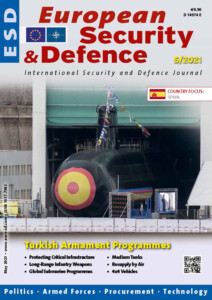 Contents of this issue:
Polish-Romanian Defence and Security Policy (Eugene Kogan)
A New Global Strategic Vision or a Fantasy? Reflections on the British Integrated Review of Security, Defence, Development and Foreign Policy (David Saw)
The Afghanistan Dilemma: to Withdraw or not to Withdraw? (Andreea Stoian Karadeli)
What is Spain's Current Role in the International Security Environment? (Esteban Villarejo)
The Spanish Armed Forces in 2035. Looking Ahead: An Overview of the Country's New Military Strategy and New Capabilities Planning Cycle (Admiral General Teodoro Esteban López Calderón)
Spain's Military to Rework ist Modernisation Priorities. Interview with Adm. Santiago Ramón González Gómez, General Director of DGAM
Spanish Defence after COVID: The Industry Speaks (Esteban Villarejo)
Protecting Critical Infrastructure – Cyber or Sabotage (Tony Kingham)
How to Train for the Coming Drone Wars. The Urgent Need for Immersive Training with Extended Reality (John Antal)
Battery Management – Systems and Technologies (Tim Guest)
Rising Demand for Medium Tanks (Christopher F Foss)
Integrated Advantage: Networking C-UAV systems (Gerrard Cowan)
A Drone Superpower. How Turkey's UAV Manufacturers are Transforming "Drone Diplomacy" (Korhan Özkilinc)
Deployment of Special Forces Equipment or Resupply by Air (André Forkert)
UUVs Revolutionise Mine Hunting and Neutralisation (Luca Peruzzi)
The Global Submarine Fleet and Weapons: Present and Future (Bob Nugent)
Unmanned Forces: Achieving ORBAT Balance (Giulia Tilenni)
Weaponised Containers Protect FOBs (Christopher F Foss)
New Technologies Disrupting Long Range Infantry Weapons (Tamir Eshel)
4×4 Scout and Liaison Vehicles (Sidney E. Dean)
Miniaturisation – Not Only About Technology (Manuela Tudosia)
An Astounding Turnaround. Interview with Jan Molter, Managing Director of Aeromaritime
Naval Programmes in the Eastern Mediterranean (Conrad Waters)
"We are ready for new global partnerships". Interview with Prof. Dr. Haluk Görgün, Chairman, President and CEO of ASELSAN
A Look at Turkish Armament Programmes (Kubilai Han)
The Return of Spetsnaz: Special Forces in the Donbas (Suman Sharma)
Turkey's Combat Support Ship Programme (Kubilai Han)
European Security & Defence
Published in English for global decision makers in politics and armed forces

European Security & Defence (ESD) addresses focal aspects of European security and defence policy, force development and armament for an international audience in more than 100 countries. Contributors include high-level authors from politics, armed forces, public administration and science covering:
Security policy
International armed forces
Armament and procurement
Weapon systems and equipment
International defence technology
Research and technology
ESD's annual programme includes a special issue on "Defence Procurement in Germany".
Editor-in-Chief: Jürgen Hensel
Publisher and Managing Editor: Stephen Barnard
Marketing/Advertising: Stephen Barnard, Stephen Elliott, Waldemar Geiger, Jürgen Hensel and Dr. Andreas Himmelsbach
Supported by the ES&T editorial team and an international network of correspondents and authors.
Single copy: €8.90 (+ shipping)
European Security & Defence website: www.euro-sd.com
ESD in e-paper format or PDF version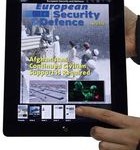 European Security & Defence is also available in e-paper format or PDF version for your computer or mobile devices in the iKiosk.
Use on mobile devices:
1. Download and install the iKiosk app on your device(free, available in Apple's App Store or in the Google Play Store)!
2. Select European Security & Defence and place your order.
Single copy: €2.99

Subscription (11 issues): €24.99