Current issue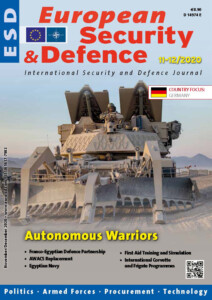 Contents of this issue:
The Enduring Franco-Egyptian Defence Partnership (David Saw)
Indonesia Searching For a Defence Direction (David Saw)
Germany as a Strong Player in Security Policy Environment (Rolf Clement)
Continue and Consolidate Trend Reversals. Interview with General Eberhard Zorn, Inspector General of the Bundeswehr
Our Priority: Improving the Materiel Readiness of Weapon Systems in Current and Future Service. Interview with Vice Admiral Carsten Stawitzki, Head of the Equipment Department at the German MoD
Opportunities and Challenges for the German Security and Defence Industry in 2020 (Hans Christoph Atzpodien and Adrian Schwantes)
Bundeswehr Cyber Innovation Hub (Sven Weizenegger and Stephanie Khadjavi)
Egypt: A Regional Naval Power? (Conrad Waters)
Exercise Baccarat 2020 – Aerocombat Hits the Alps (Pieter Bastiaans)
Security Landing – Germany´s Heavy Transport Helicopter Project in Limbo (Ulrich Renn)
Lethal Aim – Virtual vs. Life Firing Training (Trevor Nash)
Sims versus Reality: Training JTACs (Alan Warnes)
Merging Cyber into a Multi-Domain Common Operational Picture (John Antal)
Continued Controversy Surrounding French RAFALE Fighters (Suman Sharma)
Record Levels of Indian Missile Testing Amidst Ongoing Border Standoff (Suman Sharma)
Austria to Partner Italy on Joint Helicopter Project (Georg Mader)
France Prepares for New Truck Competition (David Saw)
Autonomous Warriors (Tamir Eshel)
The Evolving UAS Spectrum (David Saw)
First Aid Training and Simulation (Alex Horobets)
International Corvette and Frigate Programme Outlook (Bob Nugent)
Eyes in the Sky for Boots on the Ground. How to Renew the NATO AWACS fleet (Bo Leimand)
20 Years of L-159 (Alan Warnes)
"We have more foreign aircraft to upgrade in here, than we've had in years!" Interview with Dieter John, CEO, AERO Vodochody
Ukrainian Defence Exports (Alex Horobets)
Keeping the "Birds" Flying. Interview with Shaul Mazor, Vice President for Marketing and Business Development at Bird Aerosystems
EURONAVAL 2020. Naviris and Navantia Update on the Status of the EPC Programme
Small Arms Ammunition – Trends and Suppliers (David Saw)
European Security & Defence
Published in English for global decision makers in politics and armed forces

European Security & Defence (ESD) addresses focal aspects of European security and defence policy, force development and armament for an international audience in more than 100 countries. Contributors include high-level authors from politics, armed forces, public administration and science covering:
Security policy
International armed forces
Armament and procurement
Weapon systems and equipment
International defence technology
Research and technology
ESD's annual programme includes a special issue on "Defence Procurement in Germany".
Editor-in-Chief: Jürgen Hensel
Publisher and Managing Editor: Stephen Barnard
Marketing/Advertising: Stephen Barnard, Stephen Elliott, Waldemar Geiger, Jürgen Hensel and Dr. Andreas Himmelsbach
Supported by the ES&T editorial team and an international network of correspondents and authors.
Single copy: €8.90 (+ shipping)
European Security & Defence website: www.euro-sd.com
ESD in e-paper format or PDF version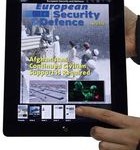 European Security & Defence is also available in e-paper format or PDF version for your computer or mobile devices in the iKiosk.
Use on mobile devices:
1. Download and install the iKiosk app on your device(free, available in Apple's App Store or in the Google Play Store)!
2. Select European Security & Defence and place your order.
Single copy: €2.99

Subscription (11 issues): €24.99