Current issue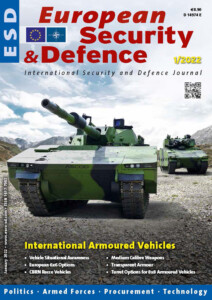 Contents of this issue:
Global Instability and the Challenge for Europe (David Saw)
"The Ultimate Weapon" Proliferation of Weapons of Mass Destruction: Developments and Trends (Christian Herrmann)
All-Seeing Situational Awareness (Tim Guest)
Propulsion Systems for AFVs – Embracing the Future (David Saw)
European 6×6 Options (Christopher F. Foss)
More Punch for Medium Armoured Vehicles (Christopher F Foss)
Tactical Trucks: Cargo Vehicles for Front-Line Replenishment (Sidney E. Dean)
CBRN Recce Vehicles: New Frontier or Fighting Old Wars? (Dan Kaszeta)
CBRN Reconnaissance Vehicles – Czech Army Solutions (Martin Smisek)
Ammunition Handling for Armoured Fighting Vehicles (David Saw)
Vehicle Active Protection Systems from Israel (Tamir Eshel)
Turret Options for 8×8 Armoured Vehicles (Christopher F. Foss)
Optionally Manned Fighting Vehicle: Five Way Competition Underway (Sidney E. Dean)
Diesel vs. Electric Propulsion: Hybrid Power for Heavyweights. Launching the process of military equipment electrification (Alex Horobets)
East European Armoured Vehicle Programmes (Eugene Kogan)
New Daimler G-Class Type Vehicles Unveiled (Gerhard Heiming)
"We are committed to providing the best possible solutions to the US military and its allies" Interview with John Lazar, Vice President and General Manager, International Programs, Oshkosh Defense
"Carriers are for Power Projection" (Suman Sharma)
European Security & Defence
Published in English for global decision makers in politics and armed forces

European Security & Defence (ESD) addresses focal aspects of European security and defence policy, force development and armament for an international audience in more than 100 countries. Contributors include high-level authors from politics, armed forces, public administration and science covering:
Security policy
International armed forces
Armament and procurement
Weapon systems and equipment
International defence technology
Research and technology
ESD's annual programme includes a special issue on "Defence Procurement in Germany".
Editor-in-Chief: Jürgen Hensel
Publisher and Managing Editor: Stephen Barnard
Marketing/Advertising: Stephen Barnard, Stephen Elliott, Waldemar Geiger, Jürgen Hensel and Dr. Andreas Himmelsbach
Supported by the ES&T editorial team and an international network of correspondents and authors.
Single copy: €8.90 (+ shipping)
European Security & Defence website: www.euro-sd.com