Aktuelle Ausgabe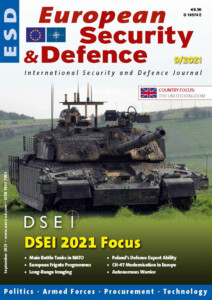 Länderfokus: Großbritannien:
Welcome to DSEI (Jeremy Quin, Minister for Defence Procurement UK Ministry of Defence)
The United Kingdom's Integrated Review (Conrad Waters)
Some You Win and Some You Lose – The Ongoing British Army Armour Crisis (David Saw)
Building a New Reality. The British Defence Industrial Strategy (David Saw)
Raytheon UK: Pushing the Boundaries. Interview with Jeff Lewis, Chief Executive and Managing Director, Raytheon UK
Exporting Maritime Britain. Interview with Mark Goldsack, Director of the Department for International Trade UK Defence and Security Exports
Weitere Inhalte dieser Ausgabe:
Domestic Military Assistance to Civilian Authorities. Evolving Needs and Enduring Principles (Manuela Tudosia)
Terrorism and Counter-Terrorism in 2021 – Beyond the Pandemic Effect (Andreea Stoian Karadeli)
Significant Shifts in the Geopolitics of the South Caucasus (Gayane Novikova)
Russian Helicopters Made in India. Indian-Russian helicopter deal stuck over local content (Suman Sharma)
Attempting To Avoid Complications – Europe's Search for a Sustainable Security Strategy (David Saw)
Driving Interoperability in Europe – FINABEL (Tim Guest)
Protecting the Baltics (Giulia Tilenni)
NATO Deployment and Management in Eastern Europe (Suman Sharma)
New European Attack Helicopters: Eagerly Awaited by 2025 (Georg Mader)
Main Battle Tanks in NATO (Christopher F. Foss)
Long-Range Observation Systems (Tamir Eshel)
European Frigate Programmes Gain Momentum (Luca Peruzzi)
A New Frigate for the Hellenic Navy (Stephen Barnard)
Tank Gun and Ammo Developments: 120mm and Above (Henry Richardson)
CBRN Protective Clothing. Advances in Textiles and Technologies (Dan Kaszeta)
Rise of the Robot Warrior (Doug Richardson)
Russia and the Lightweight Fighter Sweepstakes (Reuben F. Johnson)
Developments in the Global Sonar Market (Bob Nugent)
Stealth Technology in Naval Shipbuilding (Thomas Withington)
Softkill Solutions for the Modern Navy (Doug Richardson)
How Relevant are Rare Earths to Europe's Security and Defence? (Juan Manuel Chomon and Andreas Ganser)
Less-Lethal Enforcement Technology: Definition and Use (Joris Verbeurgt)
Energy Magazine. A Key Enabler for Current and Next Generation Surface Combatants (Luca Peruzzi)
Upgrading CHINOOK in Europe (Esteban Villarejo)
The EU's BROADWAY Communication Initiative (Thomas Withington)
Human Factors Engineering 2.0 (Frank Schwarz-Müller, Ralf Bues und Christoph Poredda)
Polish Armaments Export Perspectives (Grzegorz Sobczak)
SBCT Artillery Competition: A Status Report (Sidney E. Dean)
The RCWS Specialist. Interview with Patrik Hlůšek, Commercial Director of EVPÚ Defence
mehr auf www.euro-sd.com
European Security & Defence
Monatliche Zeitschrift in englischer Sprache für internationale Entscheidungsträger in Politik, Streitkräften und Wirtschaft
European Security & Defence (ESD) bringt zentrale Aspekte europäischer Sicherheits- und Verteidigungspolitik, Streitkräfteentwicklung und Rüstung einem internationalen Interessentenkreis in mehr als 100 Ländern nahe. In dem Magazin kommen hochkarätige Autoren aus dem politisch-parlamentarischen Bereich, Streitkräften, EU- und NATO-Institutionen, Wissenschaft und Publizistik zu Wort.
Themenfelder
Sicherheitspolitik
EU/GSVP
NATO
Streitkräfte international
Rüstung
Wehrtechnik
Sicherheits- und Verteidigungsindustrie
Forschung und Technologie
Eine Sonderausgabe ist als Schwerpunktheft dem Rüstungsbereich der Bundeswehr und den Sachständen laufender Rüstungsprojekte gewidmet.
Chefredakteur: Jürgen Hensel
Objektleiter und Chef vom Dienst: Stephen Barnard
Anzeigen und Marketing: Stephen Barnard, Stephen Elliott, Waldemar Geiger, Jürgen Hensel und Dr. Andreas Himmelsbach
Einzelheft (Print-Ausgabe): 8,90 € (zzgl. Versand)
European Security & Defence im Internet: www.euro-sd.com
ESD als E-Paper oder PDF-Version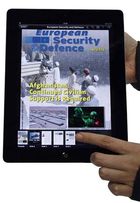 Die European Security & Defence ist auch als E-Paper oder PDF-Abonnement für die Nutzung auf dem PC, Tablet und Smartphone im iKiosk erhältlich!
Mobile Nutzung für Tablets und Smartphones :
1. iKiosk App auf dem Tablet oder dem Smartphone installieren (kostenlos im App Store von Apple bzw. im Google Play Store)!
2. European Security & Defence im iKiosk auswählen und bestellen!
Einzelausgabe: 2,99 €
Abonnement (11 Ausgaben): 24,99 €