Aktuelle Ausgabe: September 2023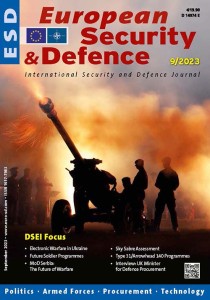 Inhalte dieser Ausgabe:
Delivery rather than Perfection: ESD Interviews the UK Minister for Defence Procurement James Cartlidge MP
UK Defence Command Paper 2023: Making a Virtue of Necessity (Conrad Waters)
How 'Special' is this Relationship? The USA and the UK (Dan Kaszeta)
Coordinating Naval Programmes in Europe (Guilia Tilenni)
The Time for Comprehensive Changes has Come (Dr Nenad Miloradović)
Major Procurements Mask Immediate Equipment Concerns for Canada (David Saw)
The British Army – Still Searching for a Sense of Direction? (David Saw)
Silent Struggle: Accounts from the Frontlines of Ukraine's Electronic War (Mark Cazalet)
Clouds on the Horizon (Thomas Withington)
Through the Looking Glass (Tamir Eshel)
Future Soldier Systems: Current Programmes (Sidney E. Dean)
Preparing Tactical Command Posts for the Next War (John Antal)
The Future of Persistent Ground Surveillance (Tamir Eshel)
Heavens Above! (Thomas Withington)
Decontamination and Returning to Service (Dan Kaszeta)
Apache CSP – the UK's Newest Attack Helicopters (Tim Guest)
Next Generation Rotorcraft Capability: NATO's Joint Helicopter Development Programme (Sidney E. Dean)
Global Combat Air Programme: an Update and future perspectives (Guilia Tilenni)
Protector RG Mk1: Royal Air Force Gains New MALE UAV (Sidney E. Dean)
Upwardly Mobile: VTOL and Tiltrotor Technology Developments (Sidney E. Dean)
Sniper Rifles – Scoping the Field (David Saw)
Towards a New UK Weapon-Locating Capability (Tim Guest)
Sky Sabre: A Landmark in UK GBAD Capability (Doug Richardson)
Solving the British Artillery Capability Gap – the Mobile Fires Platform (David Saw)
Arquus Proposes Hybrid Tank Engine Upgrade Solutions (David Saw)
New Guns, Missiles and Laser Systems for Naval Inner Layer Defence (Luca Peruzzi)
Offshore Patrol Vessels: The Swiss Army Knife of Modern Navies (Jean Auran)
Staying Ahead of the Game: Type 26 Targets Evolving ASW Challenge (Dr Lee Willett)
Type 31/Arrowhead 140 Frigate Programmes: Status Report (Conrad Waters)
On Patrol: Poseidon Brings Enhanced MPA Capability (Dr Lee Willett)
Mapping Activity Patterns: Using Technology and Information to Secure Seabed Infrastructure (Dr Lee Willett)
By Stealth to the Shore (Peter Felstead)
Nuclear Options (Tim Guest)
mehr auf www.euro-sd.com
European Security & Defence
Monatliche Zeitschrift in englischer Sprache für internationale Entscheidungsträger in Politik, Streitkräften und Wirtschaft
European Security & Defence (ESD) bringt zentrale Aspekte europäischer Sicherheits- und Verteidigungspolitik, Streitkräfteentwicklung und Rüstung einem internationalen Interessentenkreis in mehr als 100 Ländern nahe. In dem Magazin kommen hochkarätige Autoren aus dem politisch-parlamentarischen Bereich, Streitkräften, EU- und NATO-Institutionen, Wissenschaft und Publizistik zu Wort.
Themenfelder
Sicherheitspolitik
EU/GSVP
NATO
Streitkräfte international
Rüstung
Wehrtechnik
Sicherheits- und Verteidigungsindustrie
Forschung und Technologie
Eine Sonderausgabe ist als Schwerpunktheft dem Rüstungsbereich der Bundeswehr und den Sachständen laufender Rüstungsprojekte gewidmet.
Chefredakteur: Mark Cazalet
Ihre Ansprechpartner zu allen Fragen rund um die Anzeigenschaltung finden Sie hier.
Einzelheft (Print-Ausgabe): 9,90 € (zzgl. Versand)
European Security & Defence im Internet: www.euro-sd.com