Current issue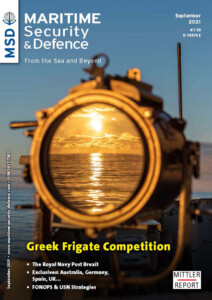 Contents of this issue:
The Royal Navy Post Brexit: Priorities & Challenges (Richard Beedall)
US Navy Force Structure Divergent "Roads" Ahead (Scott C. Truver)
A Thinking Navy, a Fighting Navy, an Australian Navy. Interview with Rear Admiral Mark Hammond, Commander Australian Fleet (COMAUSFLT)
"An opportunity window is open to internationalise our defence industry." Interview with Admiral General Antonio Martorell Lacave, Chief of Staff, Spanish Navy (Almirante Jefe de Estado Mayor de la Armada – AJEMA).
Vice Admiral Kay-Achim Schönbach: We need to focus more on blue water operations
The Type 26 Global Combat Ship: Global by Design (Conrad Waters)
Medium Calibre Naval Gun Systems and Smart Ammunition (Luca Peruzzi)
Stopping the Anti-Ship Missile (Doug Richardson)
Water & Waste Handling on Navy Vessels: A Matter of Honour? (Konstantin Tchetchine)
A New Frigate for the Hellenic Navy (Stephen Barnard)
Exporting Maritime Britain. Interview with Mark Goldsack, Director of the Department for International Trade UK Defence and Security Exports.
Curing India's Submarine Deficiency (Suman Sharma)
IMDS 2021. Showcasing the Main Trends in Russian Shipbuilding & Naval Systems (Dr. Nikolai Novichkov)
Troubled Waters and Freedom of Navigation (Nick Childs)
MUM-T at Sea. The US Navy Experiments with Manned-UnManned Teaming (Sidney E. Dean)
more on www.msd-mag.com.
Maritime Security & Defence
Authoritative global journal for the marine-naval community, written and published by uniquely qualified professionals from this sector
Maritime Security & Defence (MSD) was successfully launched in 2020 and is available in print digital formats. MSD is dedicated to providing accurate, unbiased information to serve the professional naval defence and maritime security community worldwide, so decision-makers and responsible actors can make informed decisions for the best possible outcomes.
Through strategic partnerships and targeted print and digital distribution, MSD authenticates its credibility, legitimacy and track record in the specialised international community of naval and maritime professionals. MSD is the only naval or maritime publication to establish itself in this inimitable way.
Editorial Leadership Team:
Capt. (ret) Hans Uwe Mergener and Conrad Waters
Managing Editor:
Jürgen Hensel
Publisher:
Stephen Elliott
Subscription services will be available September 2021.
Inspection copy
Order your FREE inspection copy of Maritime Security & Defence here!